This race was a disappointment. I worked all week, even had to turn around because traffic was so bad trying to make it to the track on a weekday, and I managed to place last in the A-main.
Traction had definitely come up from the previous weekend so the JConcepts Hybrid rear tires that worked well two weeks ago were nearly worthless. I switched to my only other rear tire, JConcepts Barcode V2 tires that worked better but the car lacked corner speed and initial steering. I switched from JConcepts Barcode front tired to JConcepts Rips. This gave even less steering to the point of feeling numb. Unfortunately, my tires are still in the mail from AMain Hobbies and my local hobby shop and track, Hot Shot R/C, where completely sold out of 2wd buggy tires.
To try and cope with the limited tire choices, I softened the rear shock oil to 27.5wt which helped mellow the car more. As a note I am running Team Associated Big Bore 12mm springs (Green/White) on the standard v2 shock bodies. I would love to have the big bore shocks to go along with them but at $100, I'll wait to buy a new buggy before I get them. I went to the hobby shop to find 1-step softer springs but could only find the spring sets. I wasn't willing to spend money 1t was disappointing they didn't sell them individually, I would have bought them immediately.
I loosened the diff which made the car have more corner speed.
My new tires and springs will be here late next week, just in time for Saturday's club race.
It was also pointed out to me that the car seemed "light" and was upset much of the race. I think the softer springs would have definitely calmed the car down and gave it more overall traction on the semi-slick indoor dirt track. I have also been ponder if running the ESC (LRP SXX v2 Competition) inline with the Reedy Wolfpack shorty pack is a good idea or not on the "older" chassis. The new B5 RM places all electronics along the center line and I was under the impression doing something similar on my car would bring it to more modern specs and also transition better than the other cars. I also have 70g of weight under the battery to make up the difference between the shorty pack and the standard size pack. I know I am at or around a standard B4 weight so I don't think it's a matter of total mass but where it's being placed. The B5 is much more narrow but the battery tunnel is much wider. I have a suspicion that the B4 needs the weight on either side of the battery to roll properly. Without it, the car is too narrow in a sense. I have multiple options from here, once I try new the new springs and tires:
The Problem:
low corner speed
nervous on landings, bouncing
need more transition & steering
Inline configuration with ballast weight under transmission and in rear corners
#2 with lead weight under servo
Full-sized battery with ESC tray
Full-sized battery, standard configuration
Looking to the pro drivers, I'd like to include a picture of several drivers' "old-style" cars that still largely resemble the B4. I have no doubt these cars will also change to a more B5-style layout. This is from a high bite outdoor track where MM 2wd buggies are being used exclusively.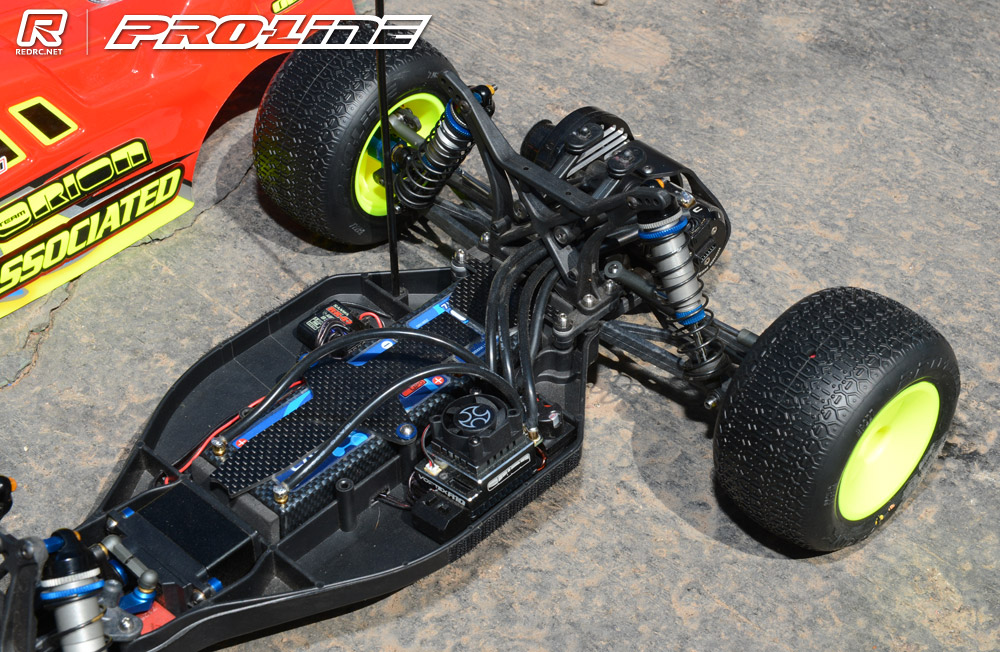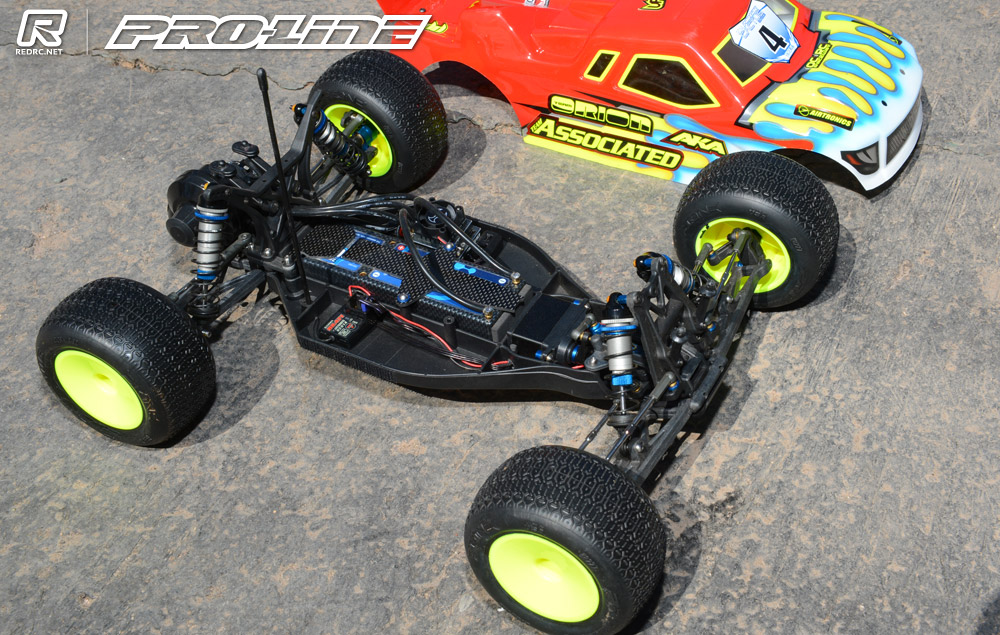 Even on this high bite outdoor track, they use the standard full-size battery configuration over putting the ESC on a shelf. In the RedRC report, it said they took the ESC down off the shelf because the car rolling too much. I am curious why they didn't have an inline configuration for this MM track. Some reasons might be:
car doesn't roll enough with inline configuration
shorty packs can't match the power of a full-size battery
Even with that said, I will continue to try the inline setup and evaluate the standard electronics setup at a later time. I may also try a ESC shelf as it seems to give more roll compared the standard electronics setup.